Medical Transport Team
"Our family caring for your family"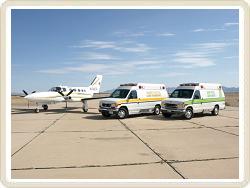 Our Transport Nurses have a minimum of five years Emergency and/or Critical Care experience. They are able to work independently, have strong leadership skills, assessment abilities, and are able to make timely, critical decisions. All of our nurses maintain the highest level of nursing practice. They excel at human interaction, collaboration, and patient advocacy essential to inter-facility transport.
Transport Paramedics have a minimum of three years of practice in Critical Care transport and/or 911 EMS Response. They are skilled in emergency patient procedures and are competent in the use of highly technical medical equipment. They work with a variety of medical personnel and meld their skills to create a mutually cohesive patient care unit.
All of our Nurses and Paramedics are certified BLS, ACLS, PALS, and NRP providers. Our staff strives to go above and beyond minimal educational and certification requirements.
Our certified EMTs are carefully screened and educated to meet our high standards of care. Motivated by a sincere commitment to improving the strength of the medical team, our EMTs actively pursue and participate in educational opportunities within our organization, and independently throughout the community. They are a supportive and essential element in all aspects of a safe and successful patient transport.
The Medical Transport Team adheres to current evidence-based Physician generated medical treatment protocols. Board Certified Emergency Medical Physicians are available 24/7 for transport team resource assistance. Mandatory Critical Care skill sessions, clinical rotations, and didactic forums are annual requirements.
Pilots must possess an Airline Transport Pilot (ATP) certificate, a minimum of 2,500 hours (at least 1,500 in multiengine aircraft), maintain proficiency with the FAA, attend recurrent training annually, and abide by all FAA and Company Rules and Regulations. They must work with the medical staff, provide leadership, and maintain safety practices on all levels.