About Us
Our Motto is "Our family caring for your family"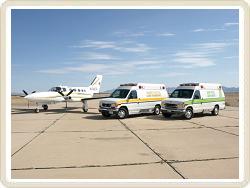 Utilizing fixed-wing aircraft configured with ultra modern Intensive Care equipment, Desert Air Ambulance is regulated by the FAA and operates in accordance with Part 135 Air Carrier regulations.
Desert Critical Care Transport, our affiliate, maintains fully equipped state-of-the-art ground ambulances.
Located in Southern California, Desert Air Ambulance and Desert Critical Care Transport provide multi-state, inter-facility transports of critically ill adult and pediatric patients. Various factors trigger a need for rapid transport to the tertiary and specialty care facilities located in larger metropolitan areas.
Our emergency dispatch services are available 24/7 and can be reached at (760) 702-1310.
Business Office hours are Monday through Friday from 8:00am to 5:00pm Pacific time. We can be reached at:
(760) 922-5911
(760) 922-5912 fax
(800) 997-4911 toll free
E-Mail: info@desertairambulance.com
Sending facilities requesting quotes for a transport may contact our dispatch at (702) 702-1310, who will then facilitate the process through a Flight Coordinator.